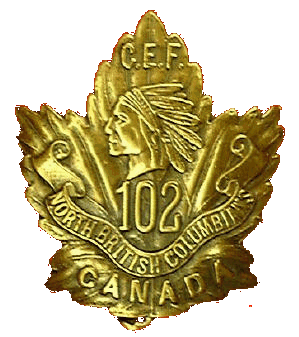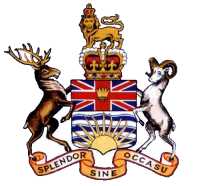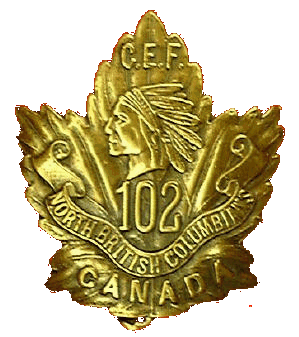 The Story of the 102nd Canadian Infantry Battalion
From BC to Baisieux by Sgt Leonard McLeod Gould HQ 102nd Canadians WW1
The First of Many Moves.
The official date for the mobilization of the 102nd Canadian Infantry Battalion, whose adventures in Canada, England, France and Belgium during the days of the Great War it is the object of this book to chronicle, is given as November 3rd, 1915, on which date authority was issued to Lieut.-Colonel John Weightman Warden, formerly of St. John's, N.B., but then of Vancouver, B.C., to raise a battalion for service overseas, this battalion to be raised in Northern British Columbia and to be styIed the102nd (Comox-Atlin) 0verseas Battalion. A newspaper story, which may or may not have some foundation in fact, states that the inauguration of the unit was the outcome of a wager laid between Mr.H.Clements, M.P. for Comox-Atlin, and one of his colleagues in the Federal House, the latter having jestingly challenged him to produce a unit from his barren constituency. If there be any truth in the yarn it certainly affords an excellent example of the adage that from small beginnings great things do grow.
The officer to whom this commission was entrusted was a veteran of experience. A native of New Brunswick, he had enlisted in the Canadian Contingent at the time of the Great Boer War, exchanging later into the South African Constabulary and serving continuously in South Africa thereafter until March, 1906, when he returned to Canada. On his arrival he felt the call of the West and migrated to Vancouver where he engaged in the business of general broker and real estate dealer, satisfying his military propensities by first enlisting in the 6th (D.C.O.R) Regiment and later, in May, 1911, taking out a commission in the same unit. Lt.-Col. Warden claims to be the first man in, British Columbia, if not the first in the Dominion, to volunteer for service in the war just concluded, as he submitted his name to the Volunteer List on the very day on which Austria declared war on Serbia. However that may be, he crossed over with the First Contingent and as a captain in the 7th Battalion was seriously wounded at on April 24th, 1915. He was invalided to England and on his discharge from hospital, during convalescence came back to Canada on this furlough. It was whilst he was in Canada on this furlough that he was granted the commission of Lieutenant-Colonel and given the authority to raise the new battalion.
Having due regard to the type of men from amongst whom the new, recruits were to be sought, no better choice of a Commanding Officer could have been made. There was plenty of material available, but it lay underneath the hard exterior of the average British Columbia fisherman, miner and logger. A polished officer of the old school would have made no headway in his recruiting campaigns, but "Honest John" Warden appealed immensely to these men; he had done plenty of "roughing it" himself in his life; he had served as a private; he had been to the front and been wounded, and, above all, there was absolutely no "swank" about him. To the very end of his career with the 102nd Battalion the original members of the battalion always referred to him in terms of genuine affection.
Immediately on receipt of his commission Colonel Warden set out on the first of many recruiting Journeys throughout the length and breadth of the Province and opened up recruiting stations at central points. The most important of these was in Vancouver where Lieut. R.G.H. Brydon was placed in charge; Lieut. J.F. Brandt undertook similar duties at Prince Rupert, Lieut. J.C. Halsey at Prince George, Lieut. F. Lister Cranbrook, Lieut. J. H. Grant at Nelson, and Sergt. A. A. F. Calland at Vernon.
As soon as this preliminary work had been accomplished whereby recruiting could be commenced without loss of time, it became necessary to decide on a suitable location for Battalion Headquarters and for a mobilization camp. In view of the fact that the Battalion to be raised was to be known as the Comox-Atlin Battalion it was felt that mobilization and training should be carried out within the precincts of that constituency, and after much deliberation it was decided to form the camp on Goose Spit, Comox. As this was the first home of the 102nd it is but fitting here to give a somewhat detailed description of this camp.
Comox is a small sea-port lying some 150 miles North from Victoria on the East coast of Vancouver Island. It is a port of considerable importance, lying, as it does close to the coal fields of Cumberland and possessing an excellent harbour. It is a regular port of call for steamers plying from Vancouver and Nanaimo; moreover, it is but three miles distant from Courtenay, the northern railhead of the E & N. Railway. On the east the harbour is protected by a mushroom-shaped tongue of land connected with the coast by a narrow neck of sand; this is Goose Spit. In the days when the Imperial Navy used Esquimalt as a Pacific base this Spit had been used as a range and traces of such use were still in evidence at the time when the 102nd settled down for training. But much had to be done before this took place, and, as will be seen later, great hardships had to be endured by the first-comers before the camp was in readiness to receive the bulk of the battalion.
Battalion Headquarters were established in Victoria where close connection could be maintained with Headquarters, M.D. No. XI., which were situated at Work Point, and offices were opened on the ground floor of the Union Bank Building, View Street. The officer who had the responsibility of conducting the early work of the battalion at Headquarters was Major L. M. Hagar, an officer of great experience in military routine work, and within two or three days he had enrolled a complete clerical staff headed by Sgt. J. L. Lloyd as Orderly Room Sergeant, under whom were Ptes. J. C. Howden, H. Hudson, L. McL. Gould, J. L. Campbell and F. E. W. Smith. During these early days Major Hagar acted as Colonel Warden's personal representative in Victoria. He was soon joined by Capt. H. B. Scharschmidt whom Colonel Warden had selected as his Adjutant. Capt. Scharschmidt had already seen service in Flanders, having proceeded overseas, with the 7th Battalion and taken part in the bloody fray of the 2nd Battle of , where he was badly gassed. His restoration to health found him keenly eager to go back to France and he welcomed the opportunity afforded him by his old comrade in arms. Prior to the outbreak of the war he had had five years' experience as a commissioned officer of the 6th (D.C.O.R.) Regiment in Vancouver. A third officer to report for duty at Battalion Headquarters was Lieut. R. D. Forrester, whose previous training had been carried out in the C. A. S.C. at Vancouver.
Lieut. Forrester undertook the duties of Assistant Adjutant. A few weeks after the opening of these Headquarters Major C. B. Worsnop reported to take over the duties of Second-in-Command, though he was not officially gazzeted as such until the unit left for England.
Headquarters establishment was further augmented by the appointment of Lieut. T. P. O'Kelly, an experienced ex-transportation official of the Hudson's Bay Co., as Transport Officer, and W, H. Long of the Vancouver Police Force. an ex-Hussar with a long Indian Service record, as Regimental Sergeant-Major.
In the meantime both the Battalion Pay Department and the Quartermaster's Department had been organized and established in Victoria. Capt. J. A. Kirkpatrick, of Prince Rupert, had received the appointment of Paymaster and chosen as his Sergeant W. F, Beak, who hailed from the same city. With Ptes. J. Wilson and W. Paterson the Pay Office was complete and carried on work in the same office as the Battalion Orderly Room. Capt. F. Stead ,late of the C. A. S. C. in Vancouver, was Quartermaster and he brought as his Quartermaster-Sergeant G. S. Hutchings who had already seen active service in South Africa and had transferred, to the 102nd Bn. from the C. A. S. C. Ptes. C., L. McDougal, G. S. Clarke and W W. Bechtel completed the Quartermaster's establishment and the stores were opened on Bastion Street.
So much for the organization of Headquarters in Victoria, where routine work was carried an until the second week in March. In addition to the registering of all recruits whose papers were forwarded from the recruiting stations mentioned above, an active recruiting campaign was maintained in Victoria itself and Sgt. G. B. Thompson, who also acted as Provost-Sergeant, did yeoman service in meeting all boats and conducting likely, candidates first to Headquarters and then to the office of Capt. A. E. McMicking, who acted as Battalion Medical Officer in the city.
Meanwhile recruiting was going on merrily throughout the Province. In the majority of cases where men were enlisted in the vicinity of any of the interior recruiting stations they took advantage of the clause in the Act and remained billeted in their own homes on a subsistence allowance, reporting daily to their local headquarters for drill and preliminary training. Others were billeted in local quarters; but where this practice did not prevail the men were forwarded direct to the mobilization camp. For those who shared this fate the winter of 1915 will always have many bitter memories. Frankly, conditions at Comox and Courtenay were deplorable. The men were told in all good faith take nothing with them; that clothing, blankets and almost all the luxuries of home would be waiting for them on arrival; the half-hearted suggestion of a moving-picture proprietor that he might open up a show in camp in the future was exaggerated until the recruit believed that he would find the white lights of Broadway twinkling on the Spit.
And when the men arrived by ones and twos, or in parties, they found nothing, not even clothes. There was a "hold-up" somewhere and it was a long and tedious job to pry loose the fingers that were holding so fast to the supplies, and all the time, throughout the bitterest winter that had been known for years on Vancouver Island, the newly recruited men, who had deliberately left behind them warm clothing, were starved with cold. The fact was, so many-battalions were recruiting at one and the same time that as fast as supplies reached the centres of population they were seized for the men on the spot, and the poor fellows in isolated Comox had to share the fate of all those who are out of sight.
At least, that, is the most charitable explanation. No blame attaches to the Quartermaster's Department of the unit; Capt. Stead made frantic efforts to supply deficiencies, but he could not create what was not there and supplies continued to go forward in exasperatingly small quantities.
However, clothing or no clothing, the nucleus of a battalion carried on at Comox and Courtenay. Major G. Rothnie, of Kamloops, who had served in the Canadian Contingent during the Boer War and had also seen service with Contingent in the First, in Flanders, whence he had returned wounded in the foot, was in command, and with him was associated Capt. A. T. Johnson another South African veteran. Sgt. Harold Brown acted as local orderly room sergeant, and assisting him were Ptes. F. Field and F. duJardin. These five comprised what might be called Advanced Headquarters. At first lack of accommodation in Comox made it necessary to divide the men, into two companies, one being stationed in Courtenay and the other in Comox, but this arrangement was found to be unsatisfactory and as soon as possible the Spit itself was made habitable and the larger portion of the men were housed under canvas, the balance being quartered in the Hotel Port Augusta, Comox, which was requisitioned as a sort of receiving station.
It is not easy to describe the hardships which these pioneers of the Spit camp had to undergo. A reference has already been made to the severity of the weather; the snowfall was phenomenal and on more than one occasion the. men were called out of their beds to clear the roof before the weight of snow brought it down on their heads. Moreover, before the Spit could be used it was necessary to lay a water pipe from a spring on the mainland across the shallow bay formed by the curve of the peninsula. To do this the men had to work up to their thighs in water, and that in December and January. Buildings had to be erected for mess halls and recreation rooms; a bath-house had to be constructed, kitchens made and all the other appurtenances of a military camp, The first building erected for a mess hall collapsed, partly owing to snow but more largely because the small body of Engineers on the spot who were responsible for its design, were more competent in theory than in practice. Colonel Warden pleaded that his recruits, who were all practical, outdoor men, be allowed to go ahead and make a camp for themselves, but Red Tape ruled that if the Government supplied the material, it should also supply the brains; unfortunately the Government was only in a position to supply heads. In addition to this kind of work the troops at Comox rendered enormous benefits to the people of the district in helping them to clear away the snow which in every locality was proving a very real menace to safety.
And so the winter passed. That it passed without any fatality from disease occurring was no credit to responsible authority; it was merely a striking evidence of the physical fitness and calibre of the men.
That it passed without any outward sign of discontent was a tribute to the patriotism of the rank and file and the tact and 'sympathy of the officers on the spot. That Colonel Warden could frequently visit these men and receive a hearty welcome was in itself sufficient proof that they never blamed him for their straits, but realized that he was doing all he could to overcome the apathy which was reacting with such severity upon the early members of the unit.
With the coming of spring conditions improved. Early in March Headquarters moved up from Victoria and after a brief sojourn in Port Augusta were established in a large marquee on the Spit itself.
The men from Vancouver, Nelson and Vernon had already arrived. Soon after, the men from Prince Rupert and Prince George marched in under the leadership of Lieut. J. F. Brandt; so numerous was this party that it was formed into a company by itself and No. 2 Co. later known as "B" Co., was the rallying point for all the hardy men from that district. A notable incident took place on the occasion of the arrival of the Prince Rupert men. Capt. J. S. Matthews happened to be the senior officer on the Spit when they marched in and he welcomed them by calling for cheers in the following words:
"North British Columbians, three cheers for the men from Prince Rupert." That was the first occasion on which the battalion had been styled "North British Columbians" and from that date onwards the title has held, being adopted in place of the words "Comox-Atlin."
Thereafter the battalion was known as the 102nd (North British Columbians) Overseas Battalion, and the title obtained on the battalion crest. Still a little later and Lieut. F. Lister appeared at the head of his Cranbrook men. A volume could be written on the difficulties with which this officer, destined to be our second Colonel and to lead the battalion home again, had had to contend; suffice it to say that only by an admirable exhibition of tact and firmness had he been enabled to keep for the 102nd Battalion those men whom he had personally enlisted and whom local jealousies had tried to wean from the battalion of their first choice.
Training now began in earnest. With the severity of winter passed, it would have been hard to find a healthier spot for the location of a training camp. Practically surrounded by the sea, swept by the four winds of heaven, with a dry sandy soil. The Spit, proved up on all that its advocates had had to say for it. During the whole of our three months' sojourn there as a battalion there was but one fatal casualty, and that was due to a stroke of apoplexy for which the climate could not be blamed. There was an epidemic of measles, but it carried with it no harmful after-effects. With that exception, the Battalion Medical Officer, Capt, N. M. McNeil of Prince Rupert, had nothing more serious to contend with than occasional colds and inevitable cuts and bruises. As the spring wore on to summer first-class bathing was obtainable off the end of the Spit, and there was ample room for all kinds of outdoor games. But life was dull on the Spit there's no denying it. We had no rifles, except for a dozen or, so Ross rifles which were periodically exhibited on wet days by some enthusiastic sergeant with confidence in his vocal chords and his ability in the art of demonstration. The only training we could undergo was drill in one of its forms, section, platoon, company and battalion-and the greatest of these is platoon -and route marching.
There was no recreation except what we could make for ourselves. The people of Comox and Courtenay, though they must have benefited enormously from the presence of a battalion in their midst, failed to take advantage of the opportunities afforded to men of enterprise and offered nothing in the way of evening entertainment. Time hung heavily after the day's work was done, and even the proverbial mischief which Satan is popularly credited with having on tap for idle hands seldom materialized. A walk to Comox after supper, a drink at "The Lorne," another at "The Elk," perhaps more, not likely less, and then home by our own little launch "The Joan," and the evensong's amusements were exhausted, save for cards and prayer-meetings, which usually went on simultaneously in the big mess-hall.
Throughout the three months which the battalion as a mobilized whole put in on the Spit Colonel Warden was seldom with us for more than two or three nights at a time. He was indefatigable in his journeys up and down the Province, addressing meetings, stimulating recruiting and interviewing officials on behalf of the unit, but his frequent visits to Comox were a never-ending source of joy to the men assembled there. No matter where he had been he always returned with a telegram which he had received just before reaching camp. He would have the battalion formed up on parade and after calling it to "Attention" he would invariably start by saying, "I have just received a telegram" and then would follow an optimistic message which tended to prove infallibly that within an incredibly short time we should be in France. These telegrams became the subject of ribald jests, and after parade the regular slogan was "Come on, boys, whip round for another ten cents piece; it's time we got some more hay for the Colonel's bull." But we loved those cheering messages all the same; no matter whence they materialized; and when all is said and done the Colonel did actually get the battalion over to France within five months from mobilization, which was "some record."
With the end of May it became obvious that a move of some kind in the near future was imperative. The water supply was beginning to fail and the oldest inhabitants warned us that with the advent of an average summer we could no longer depend on our mainland spring.
Seeing that on this spring we relied entirely for both drinking and washing water and that there was no other source of supply available in the near neighbourhood preparations were made for a move. The past weeks had been filled with many rumours; it had been freely stated at one time that the 102nd Bn. would go to India; Bermuda had been quoted as a likely harbourage for us; again an almost, but not quite, official notice was received that we should be brigaded at Vernon. With the failure of our water, however, it was decided that, the 102nd, together with the 103rd, and possibly the "Bantams," should be quartered for the summer at Sidney and matters had so far progressed in this direction that an advance party consisting of the Medical Officer and the Second-in-Command had gone ahead to map out a route, mark water supplies and arrange for camps so that the battalion might march to Sidney, when the bolt fell from a blue sky. The D.O.C., Colonel Ogilvy, was coming to inspect us, and on his decision would depend our immediate future.
He came, he saw, and we conquered. The fiat went forth that the 102nd Bn. would proceed overseas immediately and in a bustle and rush everything was made ready, last records were compiled and inspectors satisfied and on Saturday, June 10th, 1916, the battalion proceeded in full marching order, which included kit-bags and two blankets per man, across the narrow neck of sand for the last time, and embarked on the S.S. "Princess Charlotte" for Vancouver.
The Terminal City was reached at 10 p.m. and a large crowd of relatives had assembled at the station to see the last of their men and to say what was, alas, in many cases the last good-bye. At midnight the train pulled out and the 102nd (North British Columbians) was in good truth an overseas unit.
The following officers proceeded with the unit from COMOX:
Lieut.-Colonel J. W. Warden; Major C. B. Worsnop; Major L. M. Hagar; Capt. H. B. Scharschmidt, Adjutant; Lieut. J. B. Bailey, Asst. Adjutant; Lieut. J. M. Whitehead, i/c, Machine Gun Section; Lieut. G. B. Proctor, i1c, Signalling Section; Capt. F. Stead: Quartermaster; Capt. J.A. Kirkpatrick, Paymaster; Lieut. T. P.O'Kelly, Transport Officer; Capt. T. C. Colwell, Chaplain; Capt. J. Fall, O.C., No. 1 Co.; Capt. A. T. Johnston, O.C. No. 2 Co.; Capt. J. S. Matthews, O.C. No. 3 Co.; Major G. Rothnie, O.C. No. 4 Co. Capt. J. H. Ross; Capt. J. F. Brandt; Capt. H. E. Homer Dixon; Lieuts. R. G. H. Brydon, R. McCuaig, H. E. Whyte, T. R. Griffith, K. G. Mackenzie, T. P. Capp, R. P. Matheson, A. G. MacDonald, R. D. Forrester, J. H. Wilson, McL. Gordon, W. J. Sturgeon, J. H. Grant, R. Burde, F. Lister, J. C. Halsey and R. A. Stalker; Capt. N. M. McNeill was attached from the C.A.M.C. to the Battalion as Medical Officer.
Chapter 1 Chapter 2 Chapter 3 Chapter 4 Chapter 5 Chapter 6 Chapter 7 Chapter 8 Chapter 9
Chapter 10 Chapter 11 Chapter 12 Chapter 13 Images The Author The VC 29th Battalion Links
BATTLE HONOURS
"SOMME, 1916", "Ancre Heights", "Ancre, 1916", "ARRAS, 1917, 18", "VIMY, 1917", "Hill 70", ", 1917", "PASSCHENDAELE", "AMIENS", "Scarpe, 1918", "Drocourt-Queant", "HINDENBURG LINE", "CANAL du NORD", "VALENCIENNES", "France and Flanders, 1916-18".
Be sure and visit the 102nd Battalion`s Sister Unit - the 54th Kootenay Battalion
Visit the 21st Battalion from Eastern Ontario