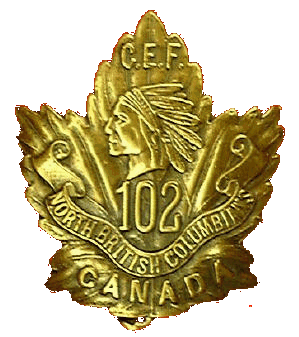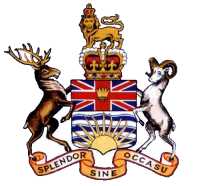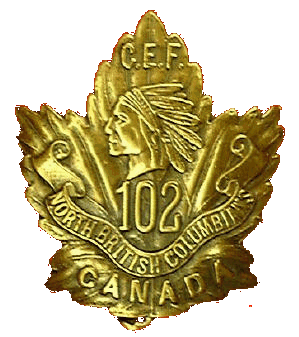 The Story of the 102nd Canadian Infantry Battalion
From BC to Baisieux by Sgt Leonard McLeod Gould HQ 102nd Canadians WW1
Captions for these pictures coming below courtesy of Geoffrey Haddon's grandson Nicholas.
Hospital redirection card. 15th Nov 1916,
Geoffrey Haddon was the second son of Arthur Trevor Haddon, an Artist of oils & watercolours, living in London.
Geoffrey left England for Canada in August 1914. There he joined his elder brother Colin, who had emigrated three years earlier to farm in British Colombia. They worked a 10 acre holding in Gray Creek, a small settlement near Nelson on the east side of Kootenay Lake.
Geoffrey signed up at Grand Forks, B.C. in Jan. 26th 1916, claiming to be two years older than in fact he was. He served with the 102nd Battalion C.E.F. being wounded on the Somme Nov 11th 1916. After several months of convalescence in England he returned to Canada in Jan 1918 and was invalided out of the army later that year.
He received a disability pension from the Canadian Government until he died in Fishbourne, England in 1984.
May 16th 1916 postcard to his sister in Devon. U.K.
Dear Joyce, ( his sister)
Here is a photo of us just starting out on a route march. You can see Comox across the bay. That is Col. Warden on Horseback right in front. Then Capt. O'kelly?, the transport Officer & the Col's orderly & then the No. 1 Co, leading the column. With Love Geoff.
Dearest Mother,
Here is a photo of a baseball game, taken a week ago. I happened to be watching. I marked myself with a cross. I am looking up at the ball. When I get my new uniform I am going to get my photo taken and will send some home. I have not heard from Colin (his brother, based in Gray Creek, Kootenay) since he came back. This Comox is an awfull place. Nothing to do or anywhere to go in spare time. Love Geoffrey.
3. Blank postcard Titled; Warden's Warriors Comox B.C. Training for overseas. The King's studio, Vancouver B.C.
4 Route marching, Warden's Warriors, Comox. B.C.
5. Warden's Warriors after route march. Postcard to his mother in Devon, U.K. May 17th1916,
Dear Mother,
Here is a photo taken of us the other day while on a route march. I guess you can pick me out, sitting down in the foreground right centre. That is me with the wrist watch. We are having fine weather now, plenty warm enough but not too hot. Let me know whether these postcards reach home. Am always glad to have a letter, even if there is not much news. I don't know when we will leave for England, although the 102nd is the next to go. Much love Geoff.
6. Warden's Warriors training for overseas. May 5th 1916 postcard to his sister.
Dear Joyce,
This is a photo of our company training on the beach during fine weather. I will send you and Julie( younger sister) broaches when i get some money at the middle of the month. Do write some time. I have just have leave for a few days and been down to Vancouver. We are on Vancouver Island, a dreary lonely place , with nothing to do. I will send some more photos later, s'long, Geoff.
7. Blank postcard assume a training march at Borden Camp.
8. Group photo, taken in Comox. Geoffrey Haddon, second row seating, left hand side.
9. Marked No. 20 O.T.C. Camp, Hagley Park.
10/11 Blank postcards. Assumed to be Borden Camp.
12. Blank Postcard. Assumed to be Borden Camp.
13. Blank postcard. Assumed to be some form of initiation ceremony, Borden Camp.
14. Standard Postcard sent from the front in France, dated 14th October 1916 escaped the censor's eye, as my grandfather signed it "Albert Haddon" letting his mother know where he was in France. The town of Albert, being the staging post for the Allies prior to going into the Trenches nearby.
15. Military Field Hospital Label, when wounded on the Somme, 11 Nov 1916
16. Field Medical Card. 11th Nov. 1916.
17 Dated 15.5.1917. Canadian B.C. Regiment, Depot Staff, Seaford. Geoffrey Haddon, back row, right. This was taken seven months after Geoffrey was wounded
18 Blank postcard. not dated , but assumed to be Metropolitan Military Hospital, London. November 1916, where Geoffrey was being treated after he was wounded with shrapnel to his arm. His notes state that he had Electrical Treatment & Massage.
19. Bill & Geoffrey. Geoffrey on RHS Taken just before being sent back to Canada on the H.M. Hospital ship "ARAGUAYA" Christmas 1917
20. Geoffrey on the LHS seated.
21 Canadian Pacific Railway Ticket. From Halifax to Vancouver Jan 1918.
Chapter 1 Chapter 2 Chapter 3 Chapter 4 Chapter 5 Chapter 6 Chapter 7 Chapter 8 Chapter 9
Chapter 10 Chapter 11 Chapter 12 Chapter 13 Images The Author The VC Uncle Bob 29th Battalion Links
BATTLE HONOURS
"SOMME, 1916", "Ancre Heights", "Ancre, 1916", "ARRAS, 1917, 18", "VIMY, 1917", "Hill 70", ", 1917", "PASSCHENDAELE", "AMIENS", "Scarpe, 1918", "Drocourt-Queant", "HINDENBURG LINE", "CANAL du NORD", "VALENCIENNES", "France and Flanders, 1916-18".
Be sure and visit the 102nd Battalion`s Sister Unit - the 54th Kootenay Battalion
Visit the 21st Battalion from Eastern Ontario